Travelogues
Click on the year to find a full list of trip travelogues. These travelogues are being added gradually. Yet to come: To search for a specific place by name, you will be able use the search facility or the alphabetical index button on the home page when finalised. If you would like more information about places not yet loaded, please raise a question for Q&A using the Contact page.
Australia So Much to See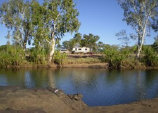 Please visit again to follow our travel adventures as they are added.
1999 Cairns to Cooktown including the Bloomfield Track and the Atherton Tablelands
2004 A quick trip across the country: WA to Qld
Read about our travels and travel adventures. Come with us and enjoy the ride. From places like Uluru that everyone must visit, to off the beaten track and out of the way places we have found.
Short reports of the following will be added in the future: